Canon Rumors, Rebates, & Deals
For those of you awaiting a new 5D3 or 7D2 (I sure am…), hold your horses. If you were hoping to see these cameras before CES, don't get your hopes up. Northlight Images reports that both cameras will be due before Photokina in 2012. From their website:
"Apart from the ongoing price drops in the 5D2 (down to $2k at B&H), the only specific rumours we've seen, have suggested that by Photokina, we will have seen both 5D2 and 7D replacements announced, and that if Canon does go for a higher MP FF body, it won't be the 5D3."
Seems like an awful long time to wait for a body I've already spent a long time waiting for! Oh well…in the meantime, the price on that 5D2 is incredible, especially with the 24-105L added on for only another $800.
In other (good) news, Canon has introduced another Instant Rebate program, where you can get a ton of great lens for great prices. Might this be the tipping point for me to splurge on the 50L 1.2? Click the image below to see what all is available…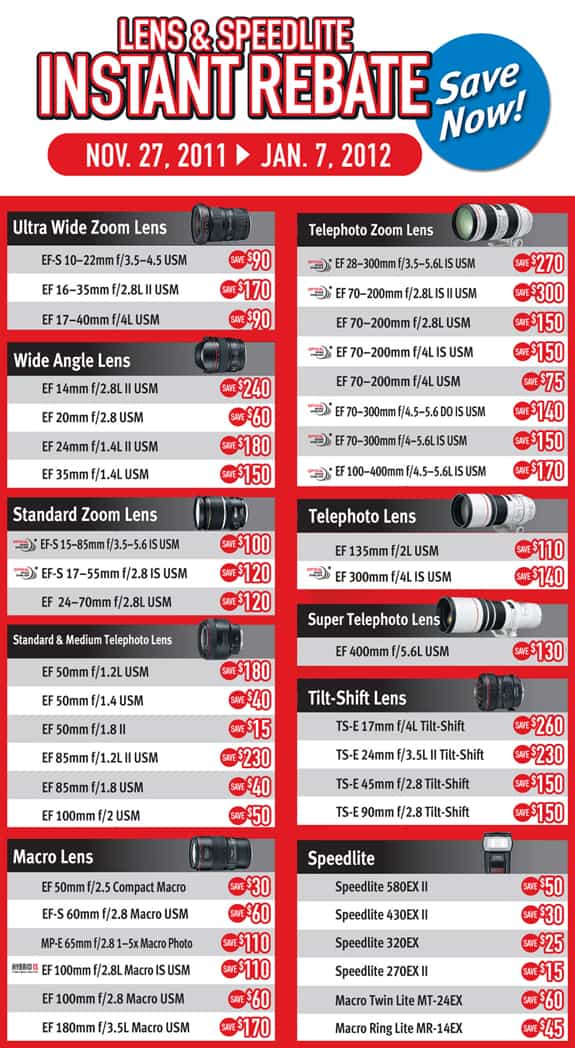 The post Canon Rumors, Rebates, & Deals appeared first on Aputure Blog.